One of the Largest Praying-for-Rain Ceremony
(Suneoriamagoi in Tsurugasima-shi) Suneori Amagoi(Japanese)
Main features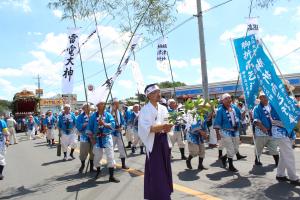 A gigantic dragon god made of bamboos and straws which is 36 meter long and weights 3 tons is shouldered by around 300 men and is carried through the streets in the city. Spectators are overwhelmed by the dynamic movements of the dragon god dashing across the national road or going into the water with carriers, and are amazed by the scene of dismantling the god all together. In 2013, this festival was awarded a grand prize, the top honor, of "Furusato Event Taisho (grand prize of hometown event)" sponsored by the Japan Center for Regional Development under the Ministry of Internal Affairs and Communications.
Description of the Ceremony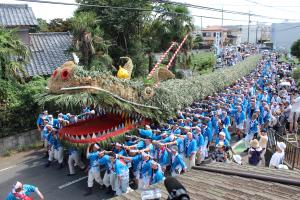 Suneoriamagoi, a traditional rain-praying event, is intangible folk-cultural property selected by the country and intangible cultural property designated by the city. Its history can be traced back to the Edo period. Goshintai (sacred body)called Ryuda (formerly called Jatai or Daija) is made of Moso bamboos, straws, and straw ropes. Ryuda becomes the dragon god after a nyukon ritual (ceremony to consecrate the sacred body) is carried out just before departure; and the god is shouldered by 300 adult men and is carried about 2 kilometers from Shirahige Shrine to Kandachigaike. When it arrives at Kandachigaike, a ritual for rain is conducted. After the water from Itakura Raiden Shrine in Gunma prefecture is poured in Kandachigaike, the carriers go into the water together with the dragon god shouting a phrase like 'Amefure tanjaku, kokohe kakare kurokumo (Come rain, come here, dark clouds) ', and at the end the dragon god is dismantled in the pond. It is said that the act of soiling the pond provokes the god's anger and let thunderstorms occur.
Significance of the event
Some records show that Suneoriamagoi was performed in the Edo period, but came to an end in 1964 due to a decrease in the number of full-time farmers caused by the change in the social environment. However, in 1975, local residents of Suneori area who rediscovered a sense of unity produced by praying-for-rain events established 'Suneoriamagoi festival preservation society', and they restored Suneoriamagoi in 1976. After that, the event took place in 1979 and 1984, and then the festival has been conducted every 4 years in the same years as the summer Olympics.
The idea that a strong bond can be fostered in the local district through this praying-for-rain event is passed on still today. The local residents in the area take part in the event together from preparing materials such as straws and bamboos and assembling Ryuda, to performing in the festival and cleaning up. They work in cooperation to contribute to the inheritance of traditional culture and the regional development.
Related videos
「Amagoi Tsurugashima 雨恋のまち 鶴ヶ島(English version)」
ACCESS